"If 'Jesus Loves the Little Children,' why not me?" young Connie wondered. Raised in a suburban 1960s family, her life was far from idyllic. From the age of 8, she was molested by her sadistic oldest brother, a teenager who idolized the occult and "did all he could to turn me away from God."
"He was evil and mean—and very violent," threatening to slit Connie's throat, mocking God's ability to save her. She dared not tell anyone, even her parents. "I believe he would have killed me."
The abuse continued for eight long years. Though Connie was an honors student who hid her secret terror well, she fought chronic depression and suicidal thoughts. "I didn't understand why I was going through all of this," she says. "I felt like God had sort of betrayed me." But Connie's other brother, a strong Christian, always reminded her of His love.
When her cruel brother killed himself, she thought, "Well, it's over now," but the hurt festered inside. In the years to come, Connie suffered numerous physical ailments, PTSD, anxiety, and severe depression. To help cope, she cut her arms and legs, covering the wounds with clothes. "I could handle the physical pain so much more easily than the emotional pain."
She married a good friend the day after her 19th birthday. She'd told her husband that she was still dealing with the fallout of the childhood abuse, but it posed serious challenges to their marriage. They eventually divorced, and she remarried at age 28.
Connie had always been good with money and excelled at every job she held—from grocery store clerk to corporate payroll and HR manager to loan processor at a bank. But by 2003, despite compassionate psychiatric care and heavy medication, her depression deepened. "I went straight from being at the bank to being in bed for four years."
"My husband went through so much of it with me, especially the really severe part," Connie says, "but after nearly 25 years, he'd had enough." Despite Medicare and Disability, the bills piled up and she declared bankruptcy. With no apartment, no remaining family, and no money, Connie came to The Union Mission.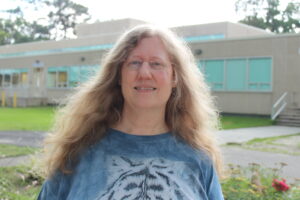 "I am thankful I became homeless because I found this place—and they brought me back to God," she says.
"I was so angry with God for a long time," but the Women's Shelter staff took the time to listen, pray with her, and help her choose forgiveness and find spiritual solace. "It's been so uplifting to be here. They are smiles from ear to ear when they talk about God," she says. "You can't help but have some of that rub off on you."
"I've learned so much about how I need to walk with Jesus," Connie says. She's focusing her time here on rebuilding her faith and relationship with the Lord. "I didn't really know much about Jesus, just the stories we heard and the songs we sang as little kids."
"Now I know He likes me—a lot!"